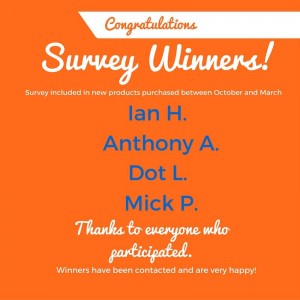 Congratulations to all our Survey Competition Winners!
Each of the 4 lucky people above has won themselves a $200 Bunnings voucher for simply completing our Customer Survey after purchasing an Ampfibian between October 2015 and March 2016.
We had such a great response to our survey. We enjoyed all of your suggestions and are so glad you love your Ampfibian as much as we do! Our R&D department has taken all of your great advice on board!
To say thanks to all those that took the time to complete and send back their responses – we'll be sending a little 'thank-you' to your inbox, so keep your eyes peeled!