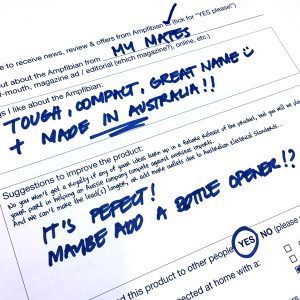 Dear customers, again we would like to thank you, this time not for your patronage of an Aussie company, but for your brains: your ideas.
When we identified a gap in the market we gave it our best shot to come up with a product that solved the problem. At a price and with a set of features that we thought would hit the spot. Since then we have asked for, and generously received, your feedback. Online, via emails and letters, and more recently with questionnaires, you have told us what you think. To us there is no such thing as negative feedback: it's all feedback, an opportunity to make things better. Many of you are very complimentary which we appreciate, and 100% of questionnaire respondents would recommend Ampfibian products to other people!
Your safety concerns made us increase the weatherproofing from IP44 to IP55 on the (RV02) MAX, higher than required by Australian Standards. Concerns about theft saw the addition of a stainless steel security bracket, and construction site users wanted the ability to add a lock-out tag.
You let us know that the MAX was too expensive, so we created the lower cost RV-PLUS specifically for travellers, and when we were finally in a position to do it, we reduced the cost of the MAX as well.
We've received many more great ideas, and while the built-in bottle opener is certainly popular, there are probably other ones that might appear sooner 😉
So thank you for caring, for taking the time to let us know. Please keep up the ideas and the feedback,
Travel safely!