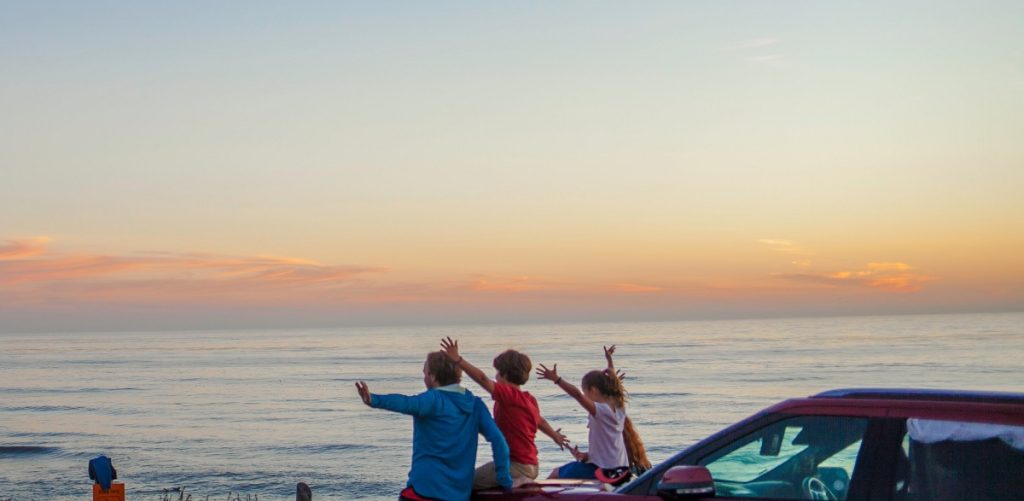 When we think of a family road trip, quite often the first thing that comes to mind is an incessant stream of "are we there yet?", but if done correctly a road trip with kids can be one of the most rewarding experiences you'll have as a family. Caravanning as a family is an excellent way to aid in your child's development; they'll be able to see so much more of the country than they would have otherwise, they'll experience so many new things, and after a week or so of experiencing the delayed gratification that comes with driving to each new destination, their patience will have improved as well. Not to mention that the lasting memories you'll make and outdoor adventures you'll have along the way will bring you closer as a family.
If you're considering hitting the road together, here are some quick road trip tips for families that'll save you from experiencing too many tantrums and (in our experience) decrease the frequency of the dreaded "are we there yet?".
1. Keep up with a routine
This may seem counterintuitive given that you've taken this trip to escape the everyday, but following some kind of schedule will help younger children adjust to life on the road with less of a fuss. We recommend sticking to a regular bed time, meal times, shower time, and time spent driving each day. Routine helps children feel more confident and secure, and it also minimises the chances of complaints.
2. Get your kids involved
Letting the kids pick out a few stops before setting off on your epic family road trip will help them feel more involved and more in control of the trip, which means they'll be far less likely to act out. Similarly letting them pick out a few family activities will give them something to look forward to and will take the strain off of you trying to pick something they'll enjoy.
3. Stop for regular walks
Stopping for regular walks isn't just a great way to keep the kids' energy levels under control, the whole family will be thankful for the chance to stretch their legs and explore the local area in a new and less touristy way. The walks don't have to be long, in fact you'll reap the benefits from just a five minute stroll. In order to keep things interesting we'd suggest playing games of I Spy along the way.
4. Have kids pack their own activities
This tip will only work for older kids, but it's a great one to keep in mind. Trying to come up with kids' road trip activities can be stressful, but luckily for you, your kids already know what they enjoy doing in their free time. So we suggest giving each of them a small tote bag and asking them to pack their favourite toys, puzzles and books to keep them entertained on the road. As with our previous tips, this gives them more control and avoids common power struggles that tend to crop up on holidays.
5. Give each kid an overnight backpack
To avoid digging through luggage at each rest stop or in emergency situations, keep a small backpack filled with each kid's essentials on hand. Things to pack in these backpacks include toothbrushes and toothpaste, a change of clothes, plenty of underwear, a hat, and a small toy.
6. Prepare a playlist
Before setting off, prepare (or find) a playlist that both you and the kids will enjoy listening to on the road. Don't underestimate the importance of good tunes in keeping everyone's spirits up and ensuring a smooth ride. Pro-tip: there's only so many times you can listen to Baby Shark in one sitting, so make sure there's a mix of your favourite songs in there too.
7. Pack health, easy snacks
For obvious reasons you'll want to avoid packing anything too messy for them to snack on during the drive, but it's also important to remember not to pack anything too sugary lest you deal with a sugar high in a confined space (followed by the inevitable and very much dreaded post-sugar-high-crash). Pre-packing snacks also minimises the number of stops you'll need to make and helps you get to your destination that much quicker.
8. Give the kids jobs
Assigning kids their own jobs for around the caravan and campsites will give them a sense of agency while also freeing up some of your own time. Simple chores like setting up tents, hanging up the washing, helping prepare meals, collecting firewood, and washing the dishes will go a long way to help your kids feel like they're an important part of the road trip.
9. Prepare road trip rewards
By far one of the best road trip hacks for kids that we've come across is this; pack some cheap 'prizes' you've acquired from the dollar store to hand out along the road at various points. It's an easy way to keep kids happy and engaged in the trip, and when used correctly can also help encourage good behaviour.
10. Bring all the wipes
You'll always need more baby wipes and flushable wipes than you think. They're perfect in a pinch for sticky fingers and accidents, so remember to stock up before you head off.
There are plenty of family road trip tips and hacks out there, but the most important thing to remember when setting off in the caravan is safety – packing a fully stocked first aid kit is absolutely essential, as is getting insurance, but equally as important is having a safe way to charge up your caravan. Ampfibian adaptors are the trusted name for safely and legally connecting wherever 15A power is not available.
Travel safely with Ampfibian.