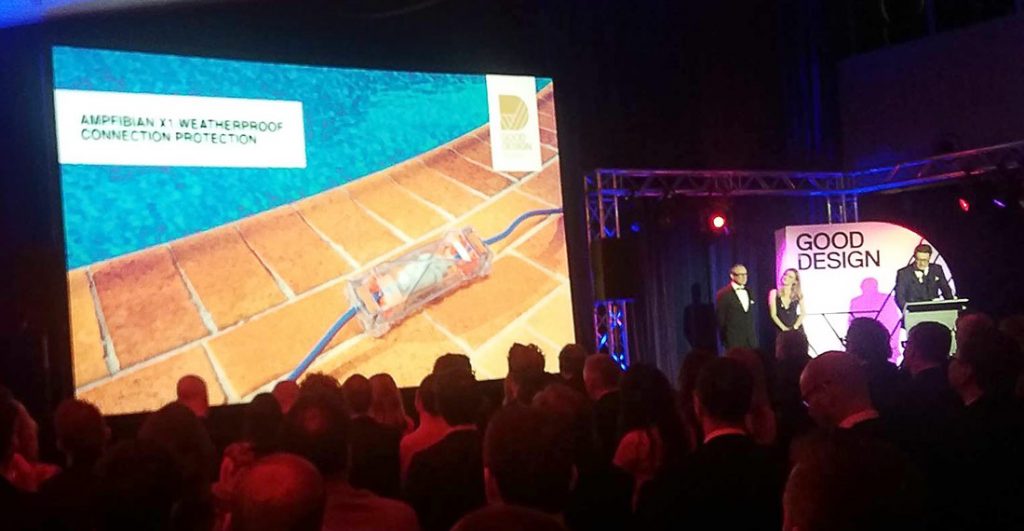 Thank goodness it was a long weekend because there were a few sore heads at Ampfibian HQ: we are humbled and excited to have received a Good Design award on Thursday night for the Ampfibian X1 Connector Protector. Judged by a panel of 35 local and international design experts, the awards are open to entries from around the world – we were up against products from Dyson, Tesla, Miele, Breville and many more… fortunately divided into different categories.
The Ampfibian X1 keeps electrical plugs and sockets connected and dry. The patented seals eliminate the risk of electrocution in the wet, while the retaining mechanism locks the connection together by acting on the leads, not the plugs. At home or on-site, the X1 keeps you connected and safe.
The jury commented: "This is an incredibly well-resolved product that ticks every box in the design criteria. Every element has been meticulously designed and detailed to deliver a highly functional product that does what it was designed to do with no fuss. The Jury was very impressed with the robust construction and intuitive operation. This is a terrific product that deserves recognition at the highest level. Well done." 
Mr Oliver Kratzer, Ampfibian's director said, "This is the first competition we've ever entered, so are completely stoked to walk away with this award. We work very hard to provide well designed, quality Australian-made products. The feedback from our customers has been incredibly positive, and it's great to get additional recognition at this level."
"A design award is really for the customers' benefit: we are not asking them to take our word for how great our products are; they can rely on an independent third parties' opinion", said David Betterridge, director and founder of Ampfibian.
The X1 is available nationally from hardware, outdoor and electrical retailers. For more information please click here.