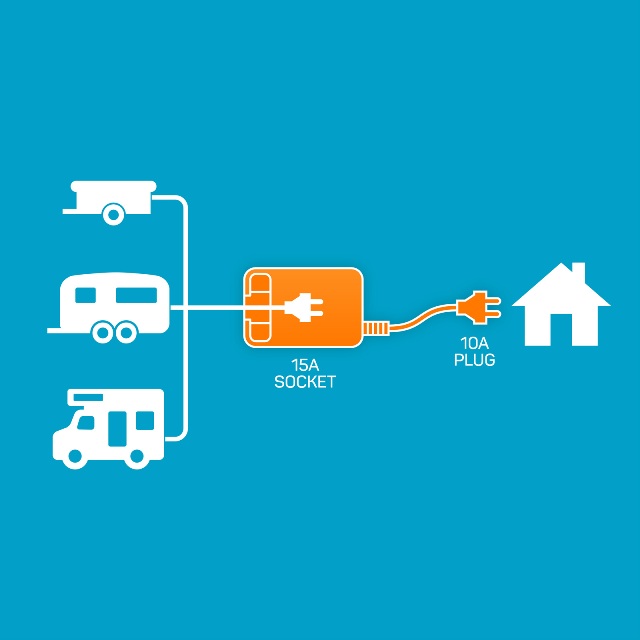 Only with a 15A to 10A power adaptor or getting an electrician to fit a dedicated 15A power point at home, but without either of those, don't even think about it.
Caravans and motor homes are designed to be connected to a 15A power point, which is why they're fitted with a 15A power inlet. But the 15A power leads those inlets hook up to don't fit into domestic 10A power points.
Tempted to modify the earth pin on a 15A power lead so it does fit? Seriously? Don't.
Every time you use one of those 'death leads', you risk an overload because they always allow more current through than it's designed for. That can quickly spell fire, one that your insurance policy won't pay out for. Death leads are illegal, so using one instantly voids your policy.
Ampfibian's 15A to 10A RV-PLUS and MAX caravan power adaptors will keep you safe and legal. They:
With a built in miniature circuit breaker, they act like a limiting switch, keeping the maximum amount of power to 10A by simply flicking off if an overload occurs.
Also feature an integrated residual current device (RCD), which protects you from electrocution due to faulty appliances and dodgy wiring.
Are certified to comply withal Australian and New Zealand safety regulations.
Offer greater value for money than having a dedicated 15A power point installed at home. With an Ampfibian caravan power adaptor as a travelling companion, you can also hook your van up at a mate's place or anywhere else a 10A power point is the only option.
Check them out here or hit your local hardware or caravan accessory store.