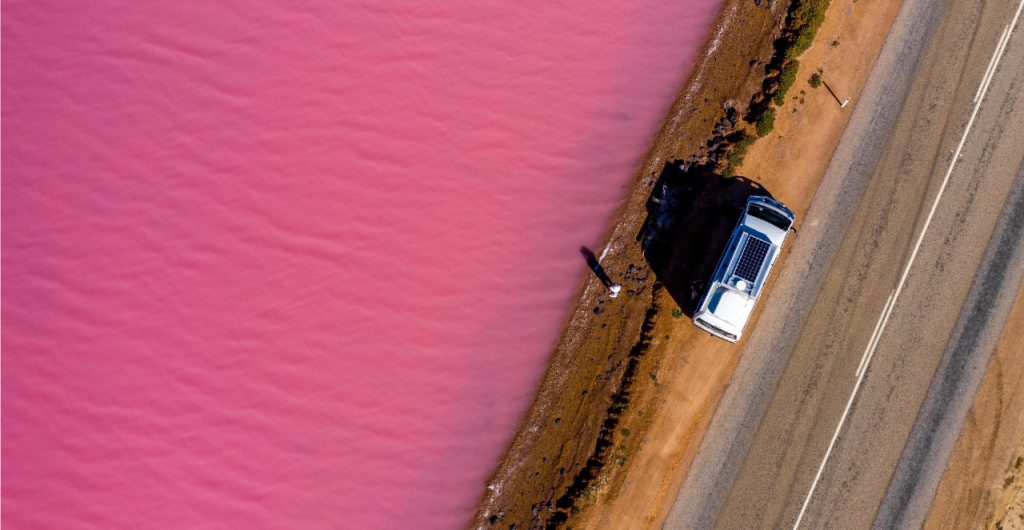 The Perth to Exmouth road trip is the best way to see a whole host of incredible attractions along Australia's Coral Coast. This Western Australia road trip spans 1200 kilometres, making it a 13 hour journey in total. Along the way you'll be treated to sparkling white beaches, unique marine wildlife, and gorgeous natural landscapes.
Day 1 – Perth to Jurien Bay [220km | 2.5 hours]
On the first day of your Western Australia road trip you'll be setting off on the stunning Indian Ocean Drive. There's plenty to discover along the coast, including Nambung National Park and the Lancelin Sand Dunes.
Once you've made it to Jurien Bay there's a range of accommodation and dining options, and plenty of fun activities to try. We'd suggest taking the time to snorkel along the Jurien Bay Snorkel Trail and explore the Jurien Bay Marine Park.
When you're all tuckered out from a day of fun in the sea, head on down to Jurien Bay Tourist Park to spend the night.
Day 2 – Jurien Bay to Kalbarri [350km | 4 hours]
Day two of your Western Australia caravaning trip involves a slightly longer drive, but it's well worth it! On the road from Jurien Bay to Kalbarri, you'll be stopping at the famous Hutt Lagoon Pink Lake.
Once you've reached the small coastal town of Kalbarri we recommend scouting out the Kalbarri National Park – hiking the park's Loop Trail will grant you access to a whole host of the epic landscapes that WA is renowned for.
Take a turn away from the vast red rocks of the national park and head back towards the coast to scope out the Blue Holes – yet another picturesque natural phenomenon. The Blue Holes is a fish habitat protection area and part of the inshore limestone reef system.
We recommend spending the night in Kalbarri Anchorage Caravan Park, but there are plenty of other options sequestered around the small fishing town for you to discover.
Caravan parks in Western Australia are plentiful and well maintained thanks to their constant influx of happy campers, but be aware that some places will require you to book in advance to secure your spot.
Day 3 – Kalbarri to Shark Bay [305km | 3 hours]
Shark Bay is a UNESCO listed World Heritage Area and a treasure trove of natural beauty. Along the way to the bay, make sure to visit the Hamelin Pool Stromatolites, some of the oldest and largest living fossils on earth, as well as Shell Beach, which is (as you've likely guessed) a beach made up entirely of tiny white shells!
If you're a fan of marine wildlife, the Eagle Bluff Lookout is a must-see. Depending on the season you could see anything from stingrays and sharks to turtles and dugongs. If you're up for another swim, the calm, vibrant waters of Little Lagoon make for an ideal setting.
After a big day of adventuring, rest up at Shark Bay Caravan Park.
Day 4 – Shark Bay to Carnarvon [260km | 2.5 hours]
Carnarvon is every foodie's dream. This subtropical oasis produces 80% of WA's total fruit and vegetable crops, along with much of the state's seafood thanks to their booming scallop, prawn, and crab industries – so make sure to grab a bite of deliciously fresh food to eat in-between day four's adventures.
One way to do this is by taking a drive around Fruit Loop, where you'll find seasonal fresh produce and local delicacies.
Enjoy a seafood lunch or dinner by the sea at The Fascine, Carnarvon's picturesque bay. After a day of eating head on over to the Wintersun Caravan & Tourist Park to spend the night.
Day 5 – Carnarvon to Coral Bay [240km | 2.5 hours]
On the way to Coral Bay, along the Quobba Coastline, take a rest stop at the Blowholes, where powerful ocean swells force water up through narrow holes in the rocks, creating massive jets of water that erupt into the air.
Once you've made it to Coral Bay, it's time to take a dive into Ningaloo Reef, whose waters are brimming with over 500 species of fish and 300 species of coral. The reef is the perfect spot for snorkelling, diving, and kayaking – all of which are year-round pursuits at Ningaloo.
There are so many amazing animals to swim with at Coral Bay, including manta rays, whale sharks, humpback whales, and turtles! If you're not interested in getting up-close-and-personal with the local wildlife, why not try out a Glass Bottomed Boat Tour instead?
We recommend spending a night (or more) at Ningaloo Coral Bay caravan park.
Day 6 – Coral Bay to Exmouth [150km | 1.5 hours]
This leg of the journey involves a much shorter drive, so you can spend the morning of the sixth day doing any of the activities you missed out on yesterday at Ningaloo Reef.
After getting your fill of ocean activities, meander up to Cape Range National Park, where rugged limestone ranges and arid coastal plains meet the pristine waters of the coast. Keep your eyes peeled for emus, echidnas, and black-flanked rock wallabies as you take a hike along one of their walking trails. If you're worn out from all the swimming, stick with your caravan and take the drive trail down to Charles Knife Canyon and Shothole Canyon.
Head back to Exmouth Cape Holiday Park to rest up for the final day of your Western Australia road trip.
Day 7 – Exmouth
You made it! Your 7 day Perth to Exmouth road trip is complete, so kick up your feet, grab a drink, and relax in one of WA's most gorgeous resort towns… Or keep exploring! Go snorkelling in the stunning Turquoise Bay, swim with manta rays, or head back to the national park for another day of hiking.
Wherever you decide to go from here, whether it's back down to Perth or further up the coast, travel safe with an Ampfibian power adaptor.