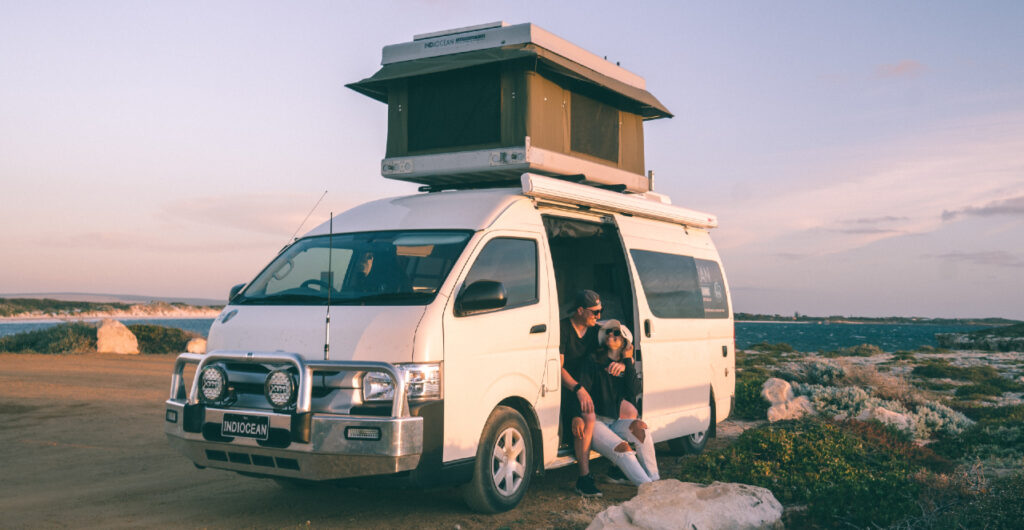 Having a campervan is a great way to explore untouched landscapes, hit the road and escape the hustle and bustle of the city. Ultimately, it gives you the freedom that a car simply can't.
But, kitting out a campervan from scratch can seem a little daunting.
How much does it cost to build out a campervan? Do I need a built-in propane stove-top? Where does my bed go?
Upleveling your campervan doesn't have to be stressful. We've created this complete guide loaded with campervan fit out ideas to help you decide how to set up your campervan.
In this article, we're sharing our recommendations, campervan fit out ideas, along with a list of all the campervan equipment you need to get started.
Essential Campervan Starter Kit
Planning your campervan conversion and understanding layout
Planning the layout of a campervan conversion is one of the most enjoyable parts – the possibilities are endless. With such a small space, it's important to carefully plan the layout of your vehicle to keep it as comfortable and functional as possible.
Here are a few things to consider when planning your layout:
How will you be using your campervan? Will you be living in it full time, part-time, or just taking the occasional weekend getaway?
How many people will be living in your campervan? Do you need bunk beds for kids or just one bed for yourself or your partner?
Do you want a permanent bed or a convertible one? A bed that converts during the day is a better use of space per m² but can be annoying to set up every night. It also cuts down on space for storage.
How much storage space do you need? Do you have a lot of clothes, instruments, equipment, books, or other things that are 'must-haves'?
Do you want to have windows and natural lighting? Windows and natural light help your campervan feel bright and open. You can always cover up existing ones or install your own.
How much power do you need?
Do you need somewhere to sit and work? Do you need or want to include a comfortable seating area with a table in your layout?
Do you plan to cook inside your campervan? If so, it's a good idea to include a full kitchen counter, sink, fridge and stove, as well as enough space for dry food storage.
Insulating your DIY Campervan conversion
Want to relax in your campervan without sweating in summer or shivering through winter nights? Then insulation is an absolute must.
Australia is home to some of the world's most spectacular wilderness, but with it comes some extreme weather. So if you're taking on a DIY campervan conversion and plan to hit the Aussie roads, insulation is a crucial step to creating a comfortable, livable space.
What insulation works best?
There are many different insulation materials, each with their own list of pros and cons. Below is a table of the different kinds of insulation you can choose from and how to to use them:
Type
Best For
Pro
Cons
Polysio

Greatest R-value
Foil-faced, serving as a radiant heat barrier
Non-toxic

More expensive
Meticulous installation is important
Tougher to find

Sheep wool

Walls
Ceilings
Door Panels

Eco-friendly
Non-toxic
Mold resistant
Breathability
Moisture management

More expensive
Lower R-value
Tougher to find

Extruded Polystyrene (XPS)

Excellent for campervan floor
High compression strength
High R-value
Slightly cheaper than Polysio

Lower R-value than Polysio
Not environmentally friendly

Expanded Polystyrene (EPS)

Foil-faced side for radiant heat deflection
Most affordable

Lower R-value
Contains a lot of air gaps that allow moisture in

Spray Foam

Covers irregular surfaces in seconds

Not very scalable (very expensive across the whole van)
What kitchen equipment do I need?
A compact, convenient and easy to use kitchen is a must when you're on the road.
But, before you go out and buy everything but the kitchen sink (excuse the pun), it's essential to remember that not all campervan fitouts need all the bells and whistles. In fact, for many, a simple small, dual-zone 12V fridge will be enough.
That said, who doesn't want an "insta-worthy" campervan kitchen?
Here are a few things to consider when planning your kitchen layout:
Refrigeration:
It's unlikely you'll need to look any further than a portable 12V Fridge. These fridges are built for adventuring and have the durability and energy efficiency to match. And, if you have a good solar power system, you can keep your food cold with nothing but sunlight.
Stoves:
Installing a built-in stove involves plumbing fuel lines and integrating a built-in cooktop into your campervan design. But, for some, this work is absolutely worth it, especially if you're looking for a more permanent kitchen feel in your campervan. Alternatively, you can buy a portable stove-top.
Countertop:
For low-top, smaller campervans, incorporating a slide-out kitchen benchtop, is a great option. This allows you to stand up whilst cooking without hitting your head. If you have a hi-top or want to cook inside, a well-positioned countertop with a kitchen camping stove is also good. There is no 'best place' to build it as no campervan is the same.
Note: If you cook inside your campervan, it's essential to have a vent fan and a good carbon monoxide detector.
Kitchen storage accessories:
Proper storage is a must when living in a space as tiny as a campervan. When adding dry food storage, there are a few tricks you can use to save space:
Pop-up Shelving: Use pop-up hinges and hidden shelving. An example of this is to use your cabinet door as an additional surface. We recommend using spring loaded hinges for this type of build out so that the cabinet doors have enough hold and flexibility to pull up and down and hold the pressure while you work on them.
Organize kitchen items into small boxes or bins: This will keep things from moving around and getting messy when on the road.
Use the doors: Even though they may be thin, you can still use them to hang light items like cutlery, bowls and plates.
Tiny spaces are your friend: Use the awkward corners to your advantage. There are little jars like spices that will fit perfectly.
Bathroom set up: What campervan toilets and showers are best?
Some of the most commonly asked questions we see revolve around how to incorporate an intricate bathroom and shower situation into a campervan fitout. Including a bathroom is certainly possible, but is it necessary?
Here we've included a few possible options for you to consider:
Toilet
Pro
Con
Porta-Potty

Convenience
Level of comfort
Cleanliness
Privacy

Take up a lot of space, even if you have a small compostable toilet.
Risk of unpleasant smells in tight quarters

Poop Shovel

Little storage needed
Free

Uncomfortable
Lack of privacy
Challenging

Compostable Bucket Toilet

Inexpensive
Easy to dispose of
More comfortable than a poop shovel

Can get smelly
Not spill-proof
Additional purchases needed
Bathroom
Pro
Con
Solar Shower

Inexpensive
Opportune for wilderness locations such as the outback

Reliant on a sunny climate
Only 3-5minutes of good water flow

Tankless Propane Water Heater

On-demand hot water
Space Saver
Higher initial cost

Inconsistent temperatures
Limited hot water supply (around 5 minutes)
Additional equipment is often necessary
More components required

Heated

Water doesn't heat up quickly

Portable Showers

Durable
Hot water on demand
How to power up your campervan
If you want to be able to refrigerate food, use a computer, and see at night, having electricity in your campervan is essential.
The best way to get the most out of your campervan conversion is to install an off-grid system. This will allow you to live without using any power from the grid for up to two weeks.
Note: Whether you plan to spend a weekend outdoors or travel full-time it's important to know how to stay safe. A campervan is loaded with electrical components. To keep your battery chargers, fridge and lights operating correctly, clean electrical power needs to be supplied to the campervan. Yet, campgrounds are not always the best at providing surge-free protection. When connecting your campervan we recommend bringing your own surge protector to avoid a dangerous surge.
Here are a few options for adding electricity to a campervan build.
Power Sources
Pro
Con
Build your own system

Complicated
Electrical work can be dangerous
Many components
We would not recommend

Portable power station & Solar Panels

Larger ones can accommodate full-time campervan life
Sustainable
Compact
Simple to install

Cost
Flexibility – what you see is what you get

Heated

Flexibility when charging batteries
Faster charger
Good as a backup
How much does it cost to fit out a campervan?
By now, you might be tallying up all your costs to get an idea of the grand total.
So how much does it cost to fit out a campervan or campervan?
While a basic campervan build-out can cost around AUD$10,000, a luxury campervan fit-out with custom extras can cost up to AUD$60,000.
This price difference may raise a few eyebrows, but the cost of building out a campervan is completely in your hands. It can be done quite economically if you are happy to travel with the basics, or if budget isn't an issue the upgrading options are endless.
Build your dream DIY campervan
One of the most important things to do when designing your campervan is to set yourself a clear budget and consider what you want to get out of it.
Are you planning to live and work in yours for the foreseeable future? Is this campervan your dream weekend getaway vehicle?
Knowing the answer to these questions will give you your answer to whether you want to include some of the more complex and expensive features.
The beauty of a campervan fit out is that no one is the same.