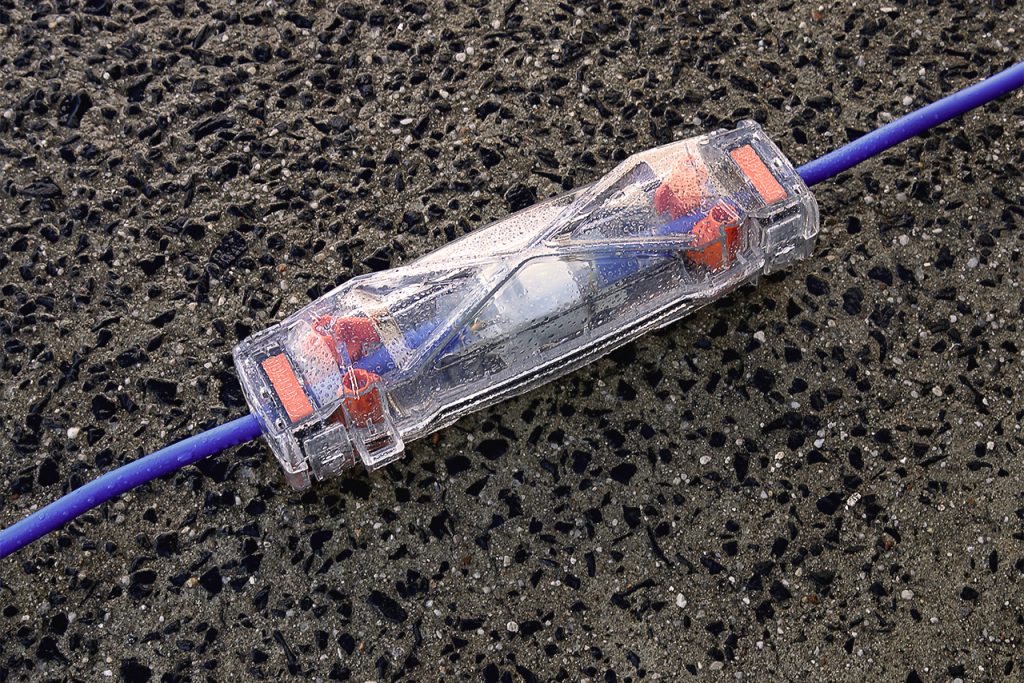 Water and power don't mix, right? Well, yes… but there are times when you need to use an extension lead in the great outdoors and you can't avoid mixing the two. You might be camping in your caravan, gardening with a hedge trimmer, installing outdoor party lights o using a concrete mixer on a building site. But risk it no more! Ampfibian have your safety in mind with the new X1 weatherproof extension lead protector for house and garden. This clever device weather seals extension lead connections and stops them pulling apart.
Rely on the X1 for outdoor use in dusty, wet and wild conditions thanks to IP55 rated ingress protection. Hit the X1 with the water jet from a hose and your connections will stay bone dry. Go on, try it! You can't submerge the X1 so hang it up out of the way with the built-in hanging loop and eliminate a trip hazard at the same time.
Keeping your extension leads from pulling apart is essential. The X1 features an automatic anti-disconnect mechanism that acts on the lead not the plug for extra safety. All you need to do is connect your power leads together and clip the housing closed. Simple. The built-in spring-loaded cleats grip the leads and not the plugs. No matter how hard you try, the plugs stay connected and aren't damaged.
Ampfibian X1 weatherproof extension lead protector for house and garden:
IP-55 hose and weatherproof
Trade tough IK-09 impact resistant
Vice-like lead restraints
Built-in securing loop
Fits 10A & 15A leads up to Ø12mm
Standards approved
Designed and Made in Australia