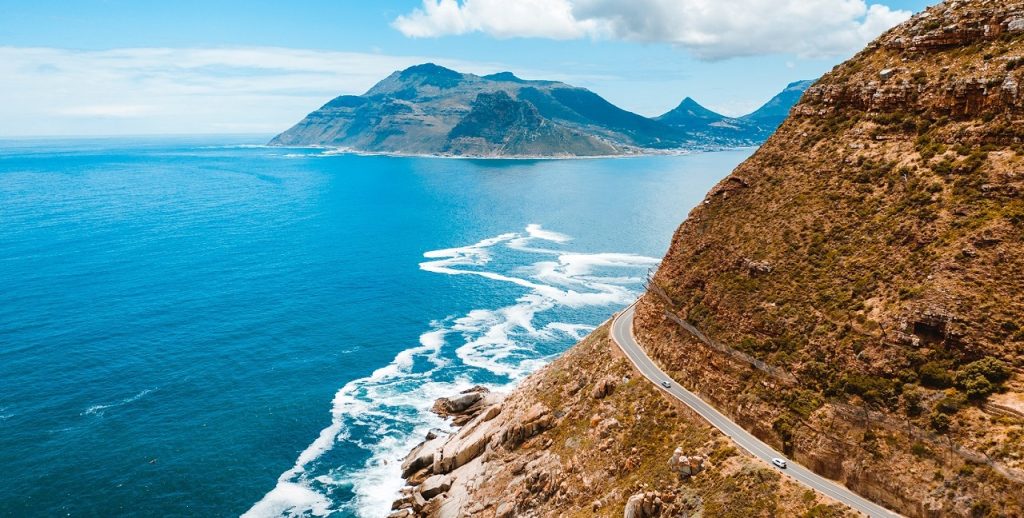 This self drive itinerary for South Australia is one of the best ways to experience the wonders of this idyllic state – think awe-inspiring views, lush wine country, and leisurely coastal drives. There's so much to discover when driving through South Australia, so we suggest taking as much time as you need at each of the destinations listed below – and detours are always encouraged!
This five day South Australia road trip from Victor Harbour to Port Broughton spans 651 kilometres, making it a 8 hour and 15 minute journey in total. To stay safe along the journey, we recommend planning your rest stops ahead of time and always coming prepared with an Ampfibian power adaptor.
Day 1 – Victor Harbour to Adelaide [84km | 1 hour 15 minutes]
Start your South Australia road trip off in the relaxed seaside town of Victor Harbour. Take some time to enjoy the quiet sandy beaches, incredible cliff top views, and delicious local seafood before hopping back in the caravan.
Whilst you're there, why not take a trip on the oldest steel railway in Australia; The Cockle Train, or admire the stunning coastal views from a Horse Drawn Tram. If you've got an extra hour or two, take a peek around the Australian Whale Centre to find out more about our sea's gentle giants.
Once you've made it to Adelaide there's so much to see and do, if you're going to extend your journey at all this is definitely the place to spend those extra days. Our top picks for things to do on day one are the Art Gallery of South Australia, Adelaide Zoo, and Adelaide Central Market. 
After a big day of soaking in Adelaide's finest culture and art, you'll want to rest up at the Adelaide Caravan Park.
Day 2 – Adelaide to Edithburgh [234km | 2 hours 45 minutes]
There's plenty of beautiful towns to explore when driving through South Australia, not all of which could fit in this article, so keep an eye out for anything of interest whilst following this itinerary and caravanning around South Australia.
Your first stop on day two will be Ardrossan, where you'll find some stellar views at the Ardrossan Lookout and discover some little-known history at the Ardrossan Heritage Museum.
Next rest stop is Port Vincent; a picturesque beachside town, perfect for a midday swim or a late lunch on the beach.
Once you've reached Edithburgh and had the time to lounge about on one of their many gorgeous beaches, head on down to Flora Reserve, a peaceful park filled with glorious native wildlife.
Caravan parks in South Australia are plentiful and well maintained, but be aware that some places will require you to book in advance to secure your spot. For tonight you'll be staying at Edithburgh Caravan Park, which is within walking distance of swimming beaches, tidal pools, boat ramps, jetties, break water and crabbing areas.
Day 3 – Edithburgh to Marion Bay [98km | 1 hour 15 minutes]
There's not far to drive on day three, which is why you'll be filling the day with stops at a number of picture-perfect coastal towns!
First stop of the day is Point Turton, overlooking the stunning blue waters and white beaches of Hardwicke Bay. Here you'll want to grab lunch at one of the many local seafood restaurants whilst keeping an eye out for the local marine wildlife – seals, dolphins and crabs are abundant in these parts!
From Point Turton drive on over to Yorketown where you'll find the Yorke Peninsula Art Trail. Follow the trail to discover colourful murals, statues, mosaic creations and photo opportunities across the region.
Before settling into Marion Bay, take a quick hike (or drive, if you'd prefer) through Dhilba Guuranda-Innes National Park, a favourite spot for camp­ing, fish­ing and surf­ing. When you're ready to turn in for the night, drive on over to Marion Bay Caravan Park.
Day 4 – Marion Bay to Moonta Bay [167km | 2 hours]
Day four of caravanning around South Australia will take you to the surfing capital of Yorke Peninsula. The breaks off the coast of Daly Head National Park are stuff of legend.
Once you've finished riding the waves, drive on over to Port Hughes, known as being one of the best spots in the region to cast a line. If fishing isn't your style the picturesque beaches are sure to make up for it.
After dropping the caravan off at your overnight destination – Moonta Bay Holiday Park – discover some of Moonta Bay's rich history (one that's earned them national heritage status) on a Moonta Mines Walking Trail or inside the Moonta Mines Museum. Moonta is an idyllic summer escape, the perfect place to watch the sunset or spend the evening swimming along the shoreline.
Day 5 – Moonta Bay to Port Broughton [68km | 1 hour]
This last leg of your journey will take you through the Yorke Peninsula's sandy playground, where you'll discover pristine beaches, secluded hideaways, winding roads and quirky towns.
Your first stop is at the seaside paradise of Wallaroo. Head on over to the Wallaroo Apartments to hire some kayaks or paddle boards as the best way to experience this region is from the water. If you're interested in getting a more cultural view of Wallaroo, you'll want to try a Wallaroo Historical Guided Walk before jumping back on the road.
Once you've reached your final destination of Port Broughton, head on down to the jetty for a bite to eat before taking in some fascinating local history at the Port Broughton Heritage Centre.
This brings you to the end of your five day South Australia road trip, so head on over to Port Broughton Tourist Park for the night before jetting off on your next big adventure. Point Broughton is situated in perfect range of the Southern Flinders Ranges, Clare Valley wineries, and the Copper Coast, so you have plenty of options for your next adventure.
Whichever region you decide to visit next, stay safe on your South Australia travels with Ampfibian.