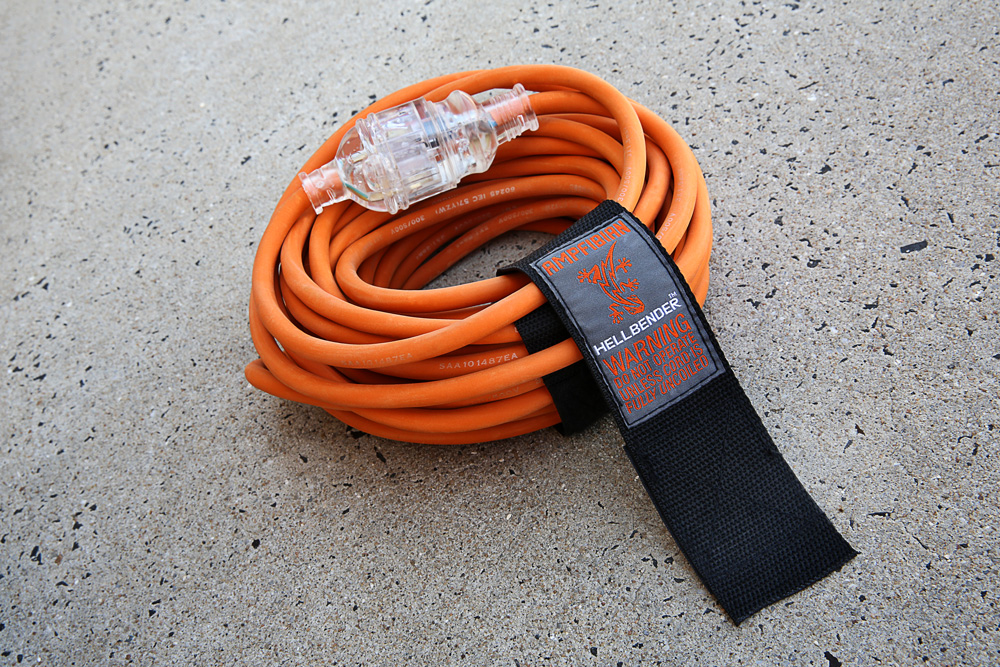 "Hellbenders™" are Ampfibians new heavy-duty extensions leads.
When you consider buying an extension lead, remember that extension leads are not all created equal: they are manufactured to be used in different environments, under different conditions, and to carry different amounts of electrical current. By basing your choice of extension cord on your specific requirements, you increase the usable life of the lead, making you safer and ultimately giving you better value for money. Safety, longevity and convenience were the key factors in the creation of the revolutionary Hellbenders.
Exclusively available online, these 15A leads are made of rubber, which means they are extra tough and flexible. Unlike conventional P.V.C. leads, Hellbenders wind tightly which makes them very compact and portable. As rubber does not have a "memory" effect, they won't become difficult to wind, or get kinked from regular use.
They won't go soft in the sun (they can be used up to 150 degrees Celsius!) and the outer is completely waterproof. The rubber is extremely durable and highly resistant to physical abuse. These toughies will outlast cheap PVC leads, saving you money.
The current range of Hellbenders is for 15 Amp caravans, RVs and camper-trailers. Remember you must never modify a 15A extension lead to fit into a 10A outlet! This is dangerous and if (when!) something goes wrong, will render your insurance void. It could also kill you.
Available in three different lengths (10m, 15m, 20m) they come with a wide Velcro® strap, which means once they're rolled up, they stay rolled up: perfect for travel! The caravan/RV Hellbenders fit both old and current caravan/RV power inlets.
Regardless of whether or not it's being used, when an extension cord is plugged into an outlet, it is potentially live. To avoid safety hazards, the Hellbender is fitted with a 'power-on' indicator light so you always know what's going on.
To find our more or purchase the Hellbender, visit our SHOP page or call 1800-FIBIAN and speak to our team.